EPA's recent risk assessment on atrazine will
dramatically limit your ability
to use the herbicide on corn, sorghum, sugarcane and other crops across the U.S.
Instead of using sound science, EPA is bending to extreme environmental groups to create a de facto ban on atrazine, simazine and propazine.
Click here to submit your own written comment


EPA's current LOC (level of concern) for atrazine is 10 parts per billion (ppb), but scientific studies have shown atrazine to be safe for aquatic life at 25 ppb or greater. EPA, however, is recommending aquatic life LOC be set at 3.4 ppb on a 60-day average.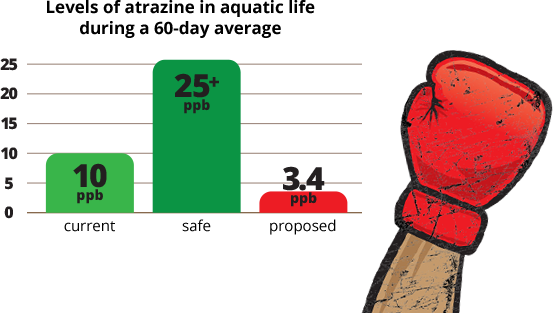 Time is limited!
Tell EPA to listen to the recommendations of their own Science Advisory Panels and more than 7,000 science-based studies that have consistently proven atrazine's safety.
Extreme environmental activists have no place
in a regulatory agency's decisions.